THE PROS & CONS
What's Best: Funky styling that is still fresh

What's Worst: Could use a little more pep

What's Interesting: Heated steering wheel and other premium features for under $26K
Hey, it's the hamster car!
So said my 10-year-old daughter when I rolled in with the 2016 Kia Soul – dipped in bright red with a gleaming black roof and black accents.
Her reference was to a series of quirky Kia ads, featuring the anthropomorphic, hipster rodents along with music by the Black Sheep, Lady Gaga and others.
Check these out on YouTube if you want a chuckle.
Indeed, the Soul may be cheeky, but it's also the sole survivor of the cube-car craze, with the Nissan Cube, Scion xB and Honda Element all victims of poor sales.
RELATED: 2013 Nissan Cube
My view is that while the others were polarizing – generally more hated than loved – Kia had somehow found the right alchemy of style, proportion and boxiness to make theirs a bit of a head-turner, or at least endearing.
It's also pretty light on the wallet, at least for a vehicle this spacious, spanning the gap between wagon, hatchback and CUV.
For $17,195, the base LX comes with a light content list that includes heated side mirrors, rear wiper, six-speaker audio, Bluetooth, and tilt/telescopic steering with audio controls
Although it is equipped with power windows and locks, keyless entry is optional. So is air conditioning, which is a must in southern Ontario, and it rolls on 16-inch steel wheels with wheelcovers… ugh!
The Soul's standard 60/40 rear bench folds to expand the 532-litre cargo hold to a generous 1,402 litres.
It's highly usable due to the car's square shape, with no curves or rear sloping rooflines to compromise its ability to carry boxes and tall items.
Lift the cargo deck and you'll find a few cubbies for hiding valuables as well.
And with both seats in place, even with the available sunroof, there's plenty of headroom, not to mention loads of legroom, making it ideal for two full-size adults or three in a pinch.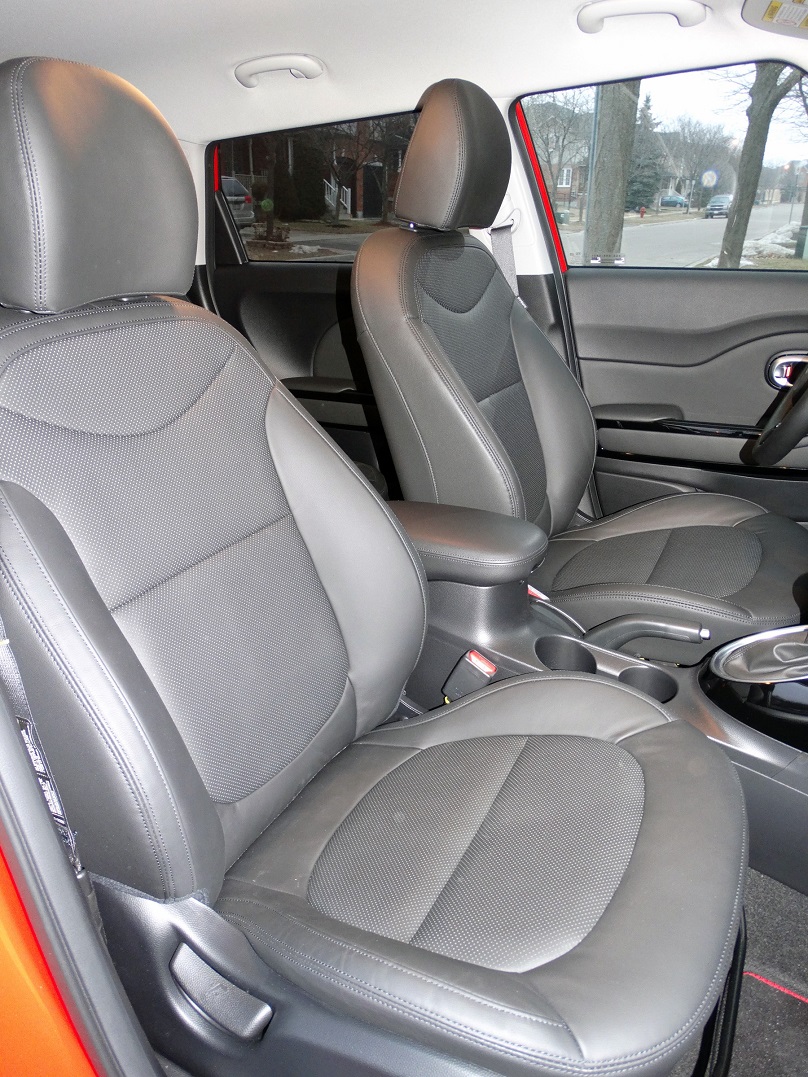 Lower trim Souls get a 1.6-litre four-cylinder with gasoline direct injection, making 130 hp and 118 lb/ft of torque. It is mated to a six-speed manual transmission in the base vehicle.
I wouldn't consider this a deal breaker, but today's drivers are becoming less willing – and able – to choose their own gears, so for another $2,700 the LX can be ordered with six-speed automatic along with air conditioning and keyless entry.
The more potent 2.0-litre GDI four-cylinder (164 hp, 151 lb/ft of torque) is found on the higher EX, SE and SX trim levels, and comes only with six-speed Sportmatic automatic.
It's not my intent here to catalogue the content and features for all 10 models. Apparently Kia hasn't yet discovered the "kiss" principle, but that does result in a Soul for many budgets.
Which would put my SE Sport tester on the high end of this modestly priced range. At $25,995, it isn't the most expensive, with SX Luxury in the top spot at $27,495.
For this kind of money, you're not getting an econohatch. This is apparent from the leather seating, piano black faceplates and accents, and the red speaker surrounds that pop against the black background.
Other amenities in my tester include automatic climate control, smart key with pushbutton start, heated front seats, auto headlights, heated steering wheel, rearview camera, and a UVO audio system that really kicks out the sound.
SE models don't get the eight-inch infotainment screen found on SX Luxury models, which also include a pile of premium features I wouldn't expect for $27K.
Front seat cooling (with power adjust for the driver), rear seat heating, cooled glovebox, and Premium Infinity audio (with external amp and subwoofer) are all part of this fully loaded package.
The exterior of the SE Sport, however, invests some of its added dollars in the big 18-inch alloy wheels, side skirts, rear spoiler and two-tone paint – not to mention power folding side mirrors.
Suspension is independent up front and torsion beam in rear, which may not impress the performance enthusiast, but is just fine for this vehicle. Body roll in the corners isn't bad for a tall-box design, and with its short wheelbase, the Soul is agile and easy to park.
Take it out on the highway, and wind noise is minimal. And despite its upright stance, it doesn't feel buffeted at speed.
Even with the 2.0-litre engine, though, the Soul is no neck-snapper. Zero to 100 km/h takes just over eight seconds, and it's noisy under hard acceleration. That being said, it isn't pretending to be a hot hatch.
Instead, this car offers family practicality in a fun and funky package. It lacks the benefit of all-wheel-drive, but like a small crossover or SUV, it does provide a relatively high seating position, and good view of the road ahead.
The Soul may not fit neatly into any particular segment, but embraces its eccentricity. Which in my mind is a large part of its appeal.
Kia Soul SE 2016
BODY STYLE: Compact wagon/hatchback
ENGINE: 2.0-litre inline four-cylinder with gasoline direct injection (164 hp, 151 lb/ft) with 6-speed Sportmatic automatic (as tested)
FUEL ECONOMY: (Regular) 9.8/7.5L/100 km (city/hwy)
CARGO: 532 litres, 1,402 litres with back seat folded
TOW RATING: Not recommended
PRICING: base LX MT $17,195; SE Sport 2.0-litre $25,995 as tested (see website for additional trim levels)
Website www.Kia.ca