THE PROS & CONS
What's best: More premium look and feel at a non-premium price.

What's worst: Top-trim models are getting pricey.

What's interesting: "Smart" power hatch requires no waving of hands and feet.
Kia's mid-size CUV has come light years since arriving here in 2003.
Gone is Sorento's dreadful cladding from the first-generation, and the timid grille of the second.
The all-new 2016 model raises the styling bar with a look that some describe as German, although I'm more inclined to say Swedish. It's a nod to Volvo's XC 90, which for me is high praise.
RELATED: 2016 Honda HR-V Review
The new sheet metal is cleaner than its predecessor, with stronger shoulders, a high beltline and narrow side glass that may not help visibility, but looks handsome nonetheless.
The new grille gulps rather than sips at the oncoming air, flanked by narrow-cut projector headlamps for a bold first impression.
The wheelbase is now longer to allow for more interior room – a key consideration in this segment. Mid-size crossovers need to be efficient at carving out space when they offer a third row.
Seven-passenger Sorentos now offer 320 litres behind the 50/50 third row, 1,077 behind the second row, and a max of 2,066. Five-passenger models are up a bit at 1,099 and 2,082 litres.
Sorento comes not only in two- and three-row models, but offers both AWD and FWD in several trim levels. And there's a choice of three engines.
Carrying over is a naturally aspirated 2.4-litre DOHC four cylinder (185 hp and 178 lb/ft of torque) as well as a 3.3-litre V6 (290 hp, 252 lb/ft), capable of towing 5,000 lbs.
New for 2016 is a 2.0-litre turbocharged four-cylinder that delivers 240 hp and a stout 260 lb/ft of torque. All engines are mated to a six-speed automatic transmission.
My tester – the SX Turbo AWD – had the latter powertrain, which easily handled its two-ton curb weight.
Peak torque begins at an early 1,450 rpm for good takeoff, and with the drive mode set to 'sport' (which sharpens throttle response, delays shifting and increases steering effort), the Sorento is surprisingly nimble.
Priced at $42,095, this trim level isn't far off the range-topping SX+ V6 AWD seven-seater ($46,695), but you needn't drop that kind of dough for a well-equipped ride.
The LX with 2.4-litre engine and FWD starts at $27,495 and comes with a pile of standard content, which to the credit of Kia and their corporate cousin Hyundai, has been common practice in their base vehicles.
This model rolls on 17-inch alloys and gets roof rails, rear spoiler, automatic headlights and rear parking sonar. And on the inside are tilt/telescopic steering with audio and cruise controls, heated front seats, 40/20/40 folding second row, air conditioning, power windows, keyless entry, six-speaker audio, power outlets in the front and cargo area, and more.
Of course, Kia's PR team wanted to showcase Sorento at its best, so my ride lacked little in terms of amenities, tech and premium content.
The SX Turbo AWD rides high on 19-inch alloys and even comes with stainless steel skid plates for those who venture off the asphalt and on to cottage roads.
It also gets premium leather seating, heated/cooled with 8-way power adjust for the front passenger, and 10-way (with memory) for the driver.
Second row 40/20/40 seats are also heated in the outboard positions, and offer loads of head and legroom for up to three full-size adults.
Heated steering wheel, eight-inch infotainment display, navigation, premium Infinity audio, smart key with pushbutton start, second-row sunshades, backup camera and blind-spot detection with rear cross-traffic alert are also part of the SX package.
The tradeoff in not having a third row was its copious underfloor storage. Beneath the entire cargo deck were right-sized compartments, ideal for laptops and other electronic gear – not only to hide, but also keep things from sliding around.
Accessing the cargo hold is made easier in top-trim models via the available "smart" power tailgate. You no longer have to wave hands, feet or do the hokey-pokey. With the smart key in pocket or purse, just stand behind the hatch and it opens.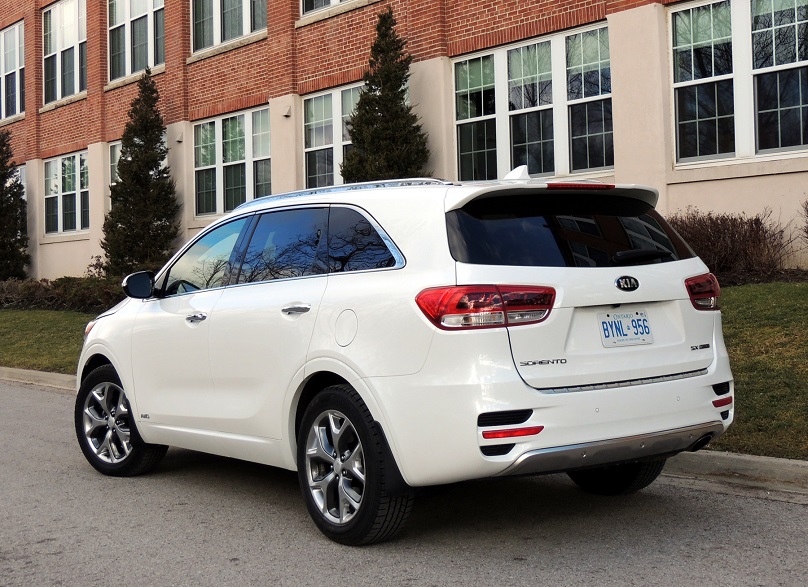 After a couple of warning beeps, of course, so you don't get whacked by the door.
The interior is not only more upscale than past Sorentos, but quieter thanks to sound-deadening efforts, along with an increased use of high-strength steel, more structural adhesives and advanced welding techniques.
Kia, like most automakers, isn't afraid to toss around numbers. For example, 53 per cent of the unit body is now made of advanced high-strength steel, and torsional rigidity is up by 14 per cent. This may sound impressive, but it wasn't until I hit a few bumps, potholes and ruts that I noticed how solid and well put together it felt.
Indeed, Kia has steadily been refining its product, adding not only more value in terms of content, but also in build quality. Case in point is their high J.D. Power ranking, with Sorento scoring top marks in its segment for initial quality.
All points to consider when shopping this crowded and competitive marketplace.
Kia Sorento SX Turbo AWD 2016
BODY STYLE: Mid-size seven-seat CUV
DRIVE METHOD: FWD or AWD with six-speed automatic transmission
ENGINE: 2.4-litre DOHC four-cylinder (185 hp and 178 lb/ft of torque); 3.3-litre V6 (290 hp, 252 lb/ft); 2.0-litre turbocharged inline four cylinder (as tested) 240 hp, 260 lb/ft
FUEL ECONOMY: 12.3/9.3 L/100 km (city/hwy) with AWD and 2.0-litre turbo – as tested. See website for other models.
CARGO: (Seven-pass) 320 litres behind third row, 1,077 behind second row, 2,066 litres max. (5-pass) 1,099 litres behind second row, 2,082 litres max.
TOWING: (with tow pkg) 2.4-litre, 2,000 lb; 2.0-litre turbo, 3,500 lb; 3.3-litre, 5,000 lb
PRICING: base LX FWD $27,495; SX+ V6 seven-seater $46,695; SX Turbo AWD (as tested) $42,095. See website for other trim levels
WEB: www.kia.ca