FRANKFURT: Paris and Frankfurt take turns hosting the first of the big fall auto shows and this year it was Frankfurt setting the tone for Europe's manufacturers.
While it is aimed at Europeans, this year's Frankfurt Motor Show had a lot of new vehicles coming to Canada soon.
Here is a list of what's new.
AUDI:
Hard on the heels of the recent debut of the new A4, 2015 Frankfurt Motor Show saw the unveiling of the S4 and S4 Avant (wagon) with a new 3.0-litre V6 turbo engine producing 350 hp, eight-speed transmission and quattro all-wheel-drive.
That gives a top speed of 155 mph and a 0-100 km/h time of 4.7 seconds.
S4 handling is much-improved thanks a new front and rear five-link suspension system while it sits 23 mm lower than the standard A4 models.
CDC or Continuous Damper Control can be modulated via the Audi drive select handling system which is fitted as standard.
Also on the Audi stand was the e-tron quattro concept that is the conceptual basis for a new generation of Audi electric cars expected by 2018.
With all-wheel-steering thanks to front and rear electric motors, it has a range of 500 km (310 miles) on a single charge.
BMW:
Pride of place at BMW went to the sixth generation 2016 7 Series flagship sedan.
While it is about the same size as the outgoing model, the lines are smoother.
Reclining rear seats are an option and back-seat drivers getting Samsung removable tablets.
Canada is expected to have two versions, the 740i with a 320 hp 3.0-litre turbo inline six-cylinder and the 750i with twin-turbo 4.4-litre V8 with 445 hp.
New for 2016 is air suspension.
JAGUAR:
The 2016 Jaguar F-Pace SUV with 12.3-inch high definition instrument panel with four visual themes and full-screen 3D navigation bowed in the 2015 Frankfurt Motor Show.
Intelligent Driveline Dynamics provides all-wheel-drive with rear-drive character as well as All-Surface Progress Control for low-friction surfaces.
We can expect a 3.0-litre supercharged V6 with 380 hp and a 0-100 km/h time of 5.5 seconds.
RELATED: 2015 Jaguar XF AWD Review
LAND ROVER:
Next stand over saw the global reveal of the Land Rover Discovery Sport HSE with new technology that includes All Terrain Progress Control (ATPC), Active Driveline and Adaptive Dynamics.
Active Driveline can intelligently switch between two- and four-wheel drive as conditions dictate, combining both the real-world fuel saving benefits of two-wheel-drive with the all-terrain capability of four-wheel-drive. On-road agility also increases with the optional Active Driveline.
MERCEDES-BENZ:
There were several world debuts at Mercedes-Benz like the S 500 Cabriolet but what stood out was the Concept IAA for Intelligent Aerodynamic Automobile.
What it does is actually change shape at 80 km/h to lower its coefficient of drag down to an almost unbelievable 0.19.
At the touch of a button, eight segments extend from the rear increasing length by 390 mm while flaps in the front bumper extend 25 mm forward.
Mercedes-Benz says the Concept IAA "offers a foretaste of the business sedan of the near future."
MINI:
MINI showed its first-ever entry up into the compact class with the world premiere of the 2016 Clubman.
With four doors and five seats, the Clubman is 27 cm longer and nine cm wider than the current MINI Five Door.
Cargo capacity can grow from 360 litres behind the 40/20/40 split/fold rear seat to 1,250 litres with the seat flat.
It also has a number of features seen on a MINI for the first time such and eight-speed Steptronic automatic transmission and an electric parking brake.
RELATED: The New Mini Clubman
PORSCHE:
Perhaps the biggest crowd on press day was for the next generation Porsche 911 Carrera which had its world debut in Frankfurt.
The most important feature is a switch to a choice of two rear-mounted turbo six-cylinder engines starting with 370 hp in the 911 Carrera and 420 hp in the Carrera S.
The Mission E concept is a four-seat all-wheel-drive electric car with total power of 600 hp with an 800-volt system that lowers charging time to slightly more it takes to fill a car fuel tank.
With a range of more than 500 km, it also sprints from 0-100 km/h in 3.5 seconds.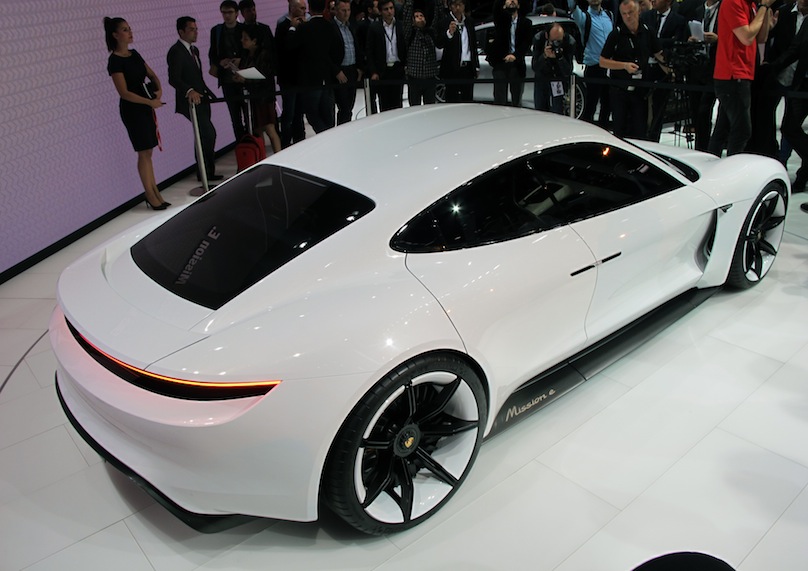 ROLLS-ROYCE:
One of the great names in the history of Rolls-Royce is the Silver Dawn of which only 28 have ever been built between 1950-1954. Interestingly, the first was delivered to Colonel W. A. Phillips in Canada.
The Silver Dawn Drophead (convertible) has 80 per cent different body panels then the rest of the Rolls-Royce lineup.
"Dawn is a Rolls-Royce that feels completely at home on the Route Napoleon. It is a contemporary homage to a life on the Cote d'Azur. The car is a contemporary take on the 'Casino' lifestyle. Perhaps seen as cavalier in character it is intended to attract people who relish both freedom and sophistication," said Giles Taylor, Director of Design.
SMART:
The open-top smart fortwo cabrio made its world debut in Frankfurt.
The soft top opens in 12 seconds and is available in three colours – red, black and blue denim. It can be opened from the outside by remote control.
VOLKSWAGEN:
The second generation Tiguan compact CUV bowed in Frankfurt now based on VW's MQB (modular transverse matrix) platform and includes a Tiguan R-Line specially tuned for on- and off-road use.
On the inside, cargo capacity is increased by 145 litres to 1,655 litres.
There is a choice of eight engines worldwide while the new 4MOTION Active Control allows drivers to adjust the all-wheel drive system more individually and easier to all possible driving conditions.
Trailer loads are increased to 2,500 kg.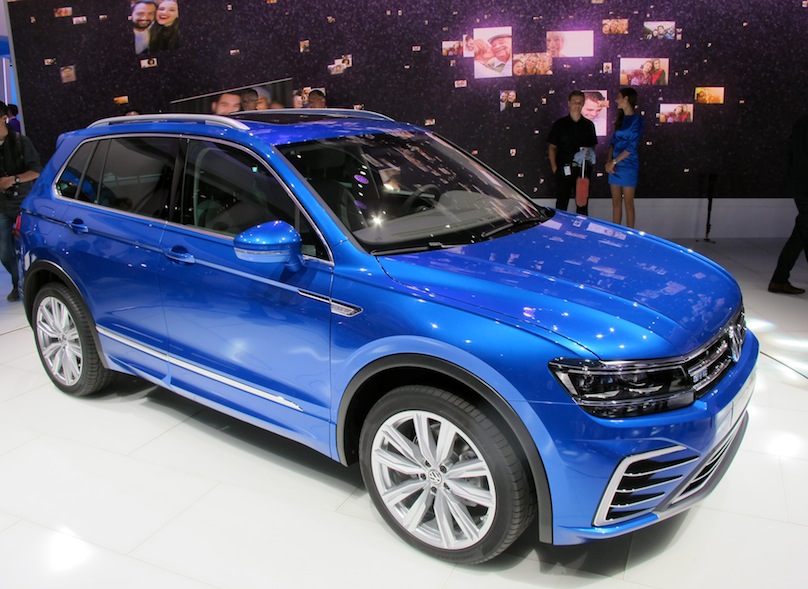 RELATED: 2015 Frankfurt Motor Show Exotics